AI in Customer Service
Automation for satisfied customers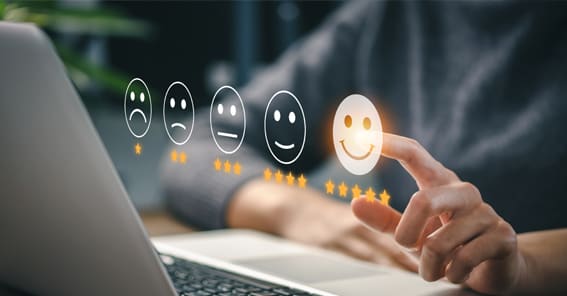 Fast response times and automated processing
Classify inquiries, mark relevant information, direct it to the right contact person or update customer data (such as IBAN or address) fully automatically: Using Natural Language Processing (NLP) with Deep Learning methods, customer service processes can be accelerated significantly. kinisto recognizes and processes important data and core information in customer inquiries - regardless of form, structure and wording. AI in customer service ensures greater customer satisfaction thanks to faster, structured processes.
Structured classification of queries
Capture of complex interrelationships
Greatly accelerated processing
Less waiting time for customers
Higher customer satisfaction
Reduced workload for employees
Automation with AI in customer service
Classify requests, route them specifically and process them faster
Evaluating customer inquiries in a targeted manner using AI: The AI system for intelligent document processing recognizes information in context and makes it usable. This means that customer inquiries can be classified, pre-sorted and routed to the right contact person in a structured manner. In addition, seamless connection to leading systems makes complete dark processing possible - for example, if a customer wants to make changes to address, contact or bank data.
Recognize information
kinisto recognizes all text modules contained in a query and puts them in context with each other. This allows relevant information to be extracted even from non-standard or complex emails.
Process optimization
The extracted data enables automatic classification and assignment of incoming messages as well as targeted routing into subsequent processes or fully automated processing by AI.

Artificial intelligence in customer service
In practice
Where AI adds value in customer service
Especially when companies receive a large volume of emails with a wide variety of requests, the AI solution kinisto in customer service is a huge lever for fast and structured processing. kinisto can automatically recognize the type of customer request, categorize it and "read" the content of the requests. This enables the distribution of requests to the right departments or service agents, which in turn reduces response time and increases customer satisfaction.
Automated suggestions or predefined responses - such as those already sent to customers in the past - enable employees to respond quickly.
For a personalized customer experience, for example, a pre-assessment of the tone in the customer's message is provided. This makes it easier for customer service to respond appropriately.
Specific time saved
How AI speeds up response times in customer service
Exactly how much time can be saved by using kinisto AI software in customer service depends on various factors: the size of the customer service team, the number of incoming inquiries, and the efficiency of processes already in place.
A reduction in processing time of up to 50% is usually possible through automated routing. Alone through the targeted and structured availability of information in the requests and the avoidance of duplicate work, the work of the teams is significantly more efficient. Through the extended use of AI in customer service - e.g., through full automation of certain processes - the processing time can be reduced even more significantly.
Complete automation
How AI enables "dark processing"
The use of the AI software kinisto enables complete dark processing - especially of less complex requests. In addition to automated responses to frequently asked questions (based on a knowledge database) or simple requests such as password resets, it is possible to perform change requests to payment or contact information without manual processing. The AI can also answer requests for product or order information fully automatically using information from customer accounts.
Implementation
When the use of AI in customer service is possible
It is important that automatic routing is configured to meet the needs and requirements of the customer service team and customers. The Ki-System kinisto is individually tailored to the specific requirements here. The system can usually be implemented within a few weeks. Ready-trained AI models are already available for kinisto. And new models can also be trained particularly quickly and efficiently thanks to the kinisto Studio development environment. This means that an automation solution perfectly tailored to company-specific processes is ready for use in the shortest possible time.
For the initial training of an AI model, the database is crucial. A maintained database with customer information, product information and interaction histories is advantageous.
The kinisto AI system can be seamlessly integrated into the existing IT infrastructure. For example, the AI software works together with the CRM or ERP system - without media breaks.