Intelligent Document Processing
Cutting-edge process automation
Document-Process-(R)Evolution
Document AI
Fully automated content processing
The AI system for intelligent document processing, based on Natural Language Processing (NLP) with Deep Learning methods: kinisto provides structure, efficiency, reduced error rates and accelerated processes.
Massively accelerated inbound management
Automation of previously manual activities
Partial automation of complex processes
Data extraction from context
Regardless of the wording, structure and position of the information
Focus on automation
Efficiency and practical use of AI technology
The review interface
Fast testing and processing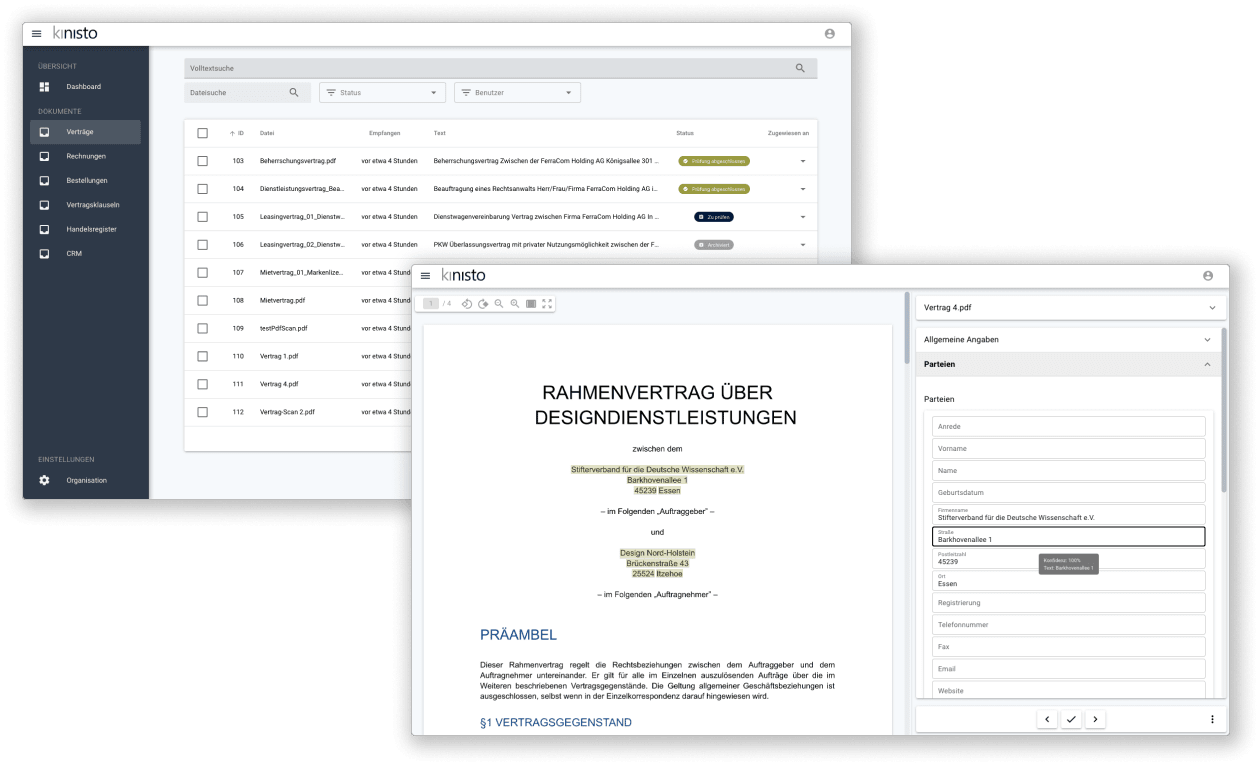 Use Cases
How kinisto accelerates processes
Automated analysis of claims reports

Faster results & accurate forecasting of claims settlement amounts: kinisto can extract relevant passages from damage reports. The information is then available in summarized form as data records and can be further processed - for example, for the automated determination of settlement amounts. On the basis of the data, it is also possible to implement a traffic light system, which displays particularly critical passages grouped accordingly, which in turn contributes significantly to more efficient processing.

Review of credit applications

In the credit approval process, kinisto can transfer data from documents such as payroll records to the banks' systems in a structured manner. To rule out possible fraud, the information and documents can also be checked for plausibility. This significantly accelerates the verification process and ensures consistent fraud prevention.

Supply-chain risk management

kinisto can be used to identify potential risks for the company across the entire supply chain. These include possible business interruptions, price escalation clauses or possible ESG violations by contractual partners, which can mean delivery delays or non-usability of the goods. In complex contract texts, the technology recognizes previously defined contract clauses and makes them assessable in a structured manner.

Automated capture of waybills

AI-based capture of waybills saves money and, above all, time - processes at transshipment points can be massively accelerated. kinisto captures the contents of waybills regardless of format and enables fast processing: from sender and recipient data to pickup and delivery points to transport goods descriptions, dimensions and weight information to payment data and instructions for customs.

Processing of incoming medical invoices

Medical bills and prescriptions from private health insurance claims are usually only available as scans and are not standardized in form and structure. kinisto can nevertheless extract the information contained and output it as structured data - and do so more accurately than purely position-based OCR processes. On this basis, insurers can automate the complete invoice run (incl. matching with approval criteria). This means rapid customer feedback and settlement - at lower cost.

Automated classification of documents

With kinisto, documents can be classified not only by format and document type, but also by content. This makes it possible to extract valuable, specific information - regardless of the wording - from documents. Documents can be automatically transferred to downstream processes structured according to topics directly after their receipt and even large quantities of documents with complex contents can be read out.

Automation contract management

kinisto ensures fast, efficient and above all accurate extraction of information from contracts and thus creates readily usable data. For example, kinisto automatically recognizes the contract type, language, contracting parties, payment terms, dates & deadlines as well as possible risk clauses. Based on this information, processes can be initiated in parallel or downstream.
Ready for use in record time
High-performance model training
Get to the kinisto data extraction model efficiently: With kinisto Studio, our own state-of-the-art NLP development environment for Data Scientists, we train high-performance models for contextual text and document analysis. The innovative active learning technology of kinisto Studio, combined with the ability to optimize raw data, annotation and model in short iteration cycles, enables training in record time.
This means: kinisto is ready for use very quickly - from the first proof of concept to the deployment of the finished solution. More efficient, better performing, more precise: Automate your document-based processes now with innovative AI technology.